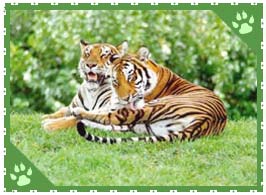 The aim of Project Tiger is to ensure a viable population of tiger in India for economic, aesthetic, cultural and ecological values and to preserve areas of biological importance as natural heritage. Project tiger scheme includes wildlife management, protection measures and site specific eco development to reduce the dependency on tiger reserve resources.
At the turn of the century, the estimated tiger population in India was placed at 40,000 but the first ever all India tiger census in 1972 shockingly revealed the existence of only 1827 tigers. Before that a ban on tiger hunting was imposed in the year 1970 and in 1972 the Wildlife Protection Act came into force. Thereafter a 'Task Force' was set up toformulate a project for tiger conservation.
With the launch of Project tiger in 1973, various tiger reserves were created in different parts of the country on a 'core-buffer' strategy. Under this strategy, the core areas were freed from all human activities and the buffer areas were to have 'conservation oriented land use'. Initially, 9 tiger reserves were established in different States during the period 1973-74. These nine Tiger reserves were Manas (Assam), Palamau (Bihar), Similipal (Orissa), Corbett (U.P.), Kanha (M.P.), Melghat (Maharashtra), Bandipur (Karnataka), Ranthambore (Rajasthan) and Sunderbans (West Bengal).
The main achievements of this project are excellent recovery of the habitat and consequent increase in the tiger population in the reserve areas, from a mere 268 in 9 reserves in 1972 to 1576 in 27 reserves in 2003.
Project Tiger Reserves in India