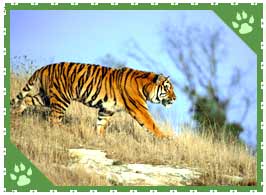 The Indian tiger, also called as the Royal Bengal tiger, is one of the most fascinating animals found in India. The tiger is the largest living member of the cat family and has an elegant built. The reddish yellow coat with black stripes gives the tiger a magnificent look. The ears of tigers are black on the outside and have a prominent white spot on them.
The scientific name of tiger is 'Panthera tigris'. It is believed that the cat family, to which the tiger belongs, originated in Siberia. From Siberia, the tigers are believed to have migrated down south as the climate became colder. The Indian tiger/ Royal Bengal tiger is one of the most graceful animals found in Sundarbans in Bengal.
The Indian tiger lives in open jungles, evergreen forests and mango grove swamps. The regular diet of Indian/Bengal tiger consists mainly of deer, gaurs, antelopes and wild pigs. Sometimes it feeds itself on birds, lizards, turtles, fishes, crabs and frogs. The Indian tiger hunts on its own and leads a solitary existence in its own territory. The tigers have good swimming strength but they hardly climb trees.
Increasing urbanization, developmental activities and poaching have resulted into rapid decline in the tiger population not only in India but also the world. In the last millennium itself as many as three sub-species of tigers lost their existence while five other tiger species have become endangered. The endangered tiger species include Bengal Tiger (Panthera tigris tigris), Chinese Tiger (Panthera tigris amoyensis), Amur Tiger (Panthera tigris attaica), Indonesian Tiger (Panthera tigris sumatrae) and Indo-Chinese Tiger (Panthera tigris corbetti).
To save the dwindling number of tigers in India, Project Tiger was started in the year 1973. Though there has been increase in the number of tigers in India but the increase does not commensurate the efforts made in this field. Some of the important Project Tiger reserves in India are the Corbett National Park, Kanha National Park, Sariska National Park, Palamou Tiger Reserve, Sunderbans National Park, Manas Sanctuary, Namdapha National Park and Bandipur National Park.
Tiger Tour Programmes
India Tiger Safari
Destinations Covered :
Delhi - Jaipur - Ranthambore - Bharatpur - Agra - Khajuraho - Bandhavgarh - Kanha - Nagpur
Duration :
15 Nights / 16 Days
India Tiger Tour
Destinations Covered:
Delhi - Sariska - Jaipur - Ranthambhore - Bharatpur - Agra - Khajuraho - Bandhavgarh - Khajuraho
Duration:
12 nights / 13 days
India Wildlife Tour Package
Destinations Covered:
Delhi - Jaipur - Ranthambore - Agra - Gwalior - Shivpuri - Orcha - Khajuraho - Bandhavgarh - Kanha - Raipur
Duration:
19 Nights / 20 Days