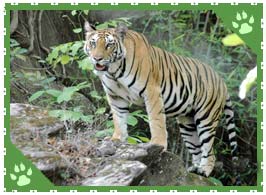 The Bandhavgarh National Park /wildlife sanctuary is small compared to others but its high game density makes it one of the adventurous and important tiger reserves in India. The Bandhavgarh tiger reserve is spread over an area of about 448sq km and is home to a wide variety of animals including carnivores, primates, ungulates, reptiles and avian life.
White Tigers
Bandhavgarh National park was once known for the white tigers but sadly no white tigers have been spotted here in the last 50 years. The last time white tigers were spotted in India, it was here in Bandhavgarh. Sources say that white tigers were spotted as many as eight times in and around Bandhavgarh during the first half of the 20th century.
Plant Life /Flora at Bandhavgarh
The Bandhavgarh National Park is dominated by Sal (Shorea robusta) trees, which are an important component of the deciduous forests of North and Central India. Sal forests have uniform and thick growth of tall and straight Sal trees that have rounded leaves. The Sal tree is an important source of precious timber and yields a resin that is used as incense. On the upper slopes of Bandhavgarh National park a mixed forest replaces the Sal forest, while in the north there are large stretches of bamboo and grasslands. The overall undergrowth in the Bandhavgarh wildlife sanctuary is not very dense.
Animal Life /Fauna at Bandhavgarh National Park
Around 22 species of mammals and 250 species of birds have been reported in the Bandhavgarh National Park. The grasslands inside the Park are home to chinkara (Indian gazelle), nilgai (blue bull) and chausingha (four-horned antelope). You can also spot groups of wild boar moving around, digging their snouts into the ground and carnivores like jackals and foxes. The sambar (Indian stag) and the muntjac (barking deer) also inhabit the denser parts of the forest along with herds of chital (spotted deer). If you are visiting Bandhavgarh during March-April you may come across Gaur (Indian bison) herds when they generally move down from the higher hills to the meadows to graze.
The Bandhavgarh National Park is home to a small population of blackbucks. Some of the smaller animals like ratel, porcupine, small Indian civet, lesser bandicoot rat, palm squirrel or predators like the jungle cat, hyena and jackal can also be seen while driving through the National Park. Reptiles such as cobras, kraits, vipers, pythons, rat snakes, lizards and turtles are somewhat elusive. The rhesus macaque and langur, one of the primates, also inhabit the Park. They can be seen frolicking and feeding on trees. You can also spot Chital herds often very close to langurs.
Birds at Bandhavgarh
Bandhavgarh National Park is an important stopover for migratory birds in winter. A variety of waterfowls and steppe eagle are some of the visitors to Bandhavgarh in winter. A number of small birds are seen in and around the Bandhavgarh wildlife Sanctuary. Some of them include the blue-bearded bee-eater, white-bellied drongo, white-browed fantail, Tickell's blue flycatcher, Jerdon's leafbird, gold-fronted leafbird, minivets, wood shrikes, Malabar hornbill, paradise flycatcher and racket-tailed drongo.
Some of the birds that are easily spotted are the green pigeons, parakeets, peafowl, little grebes, black ibis, egrets, sarus cranes, lesser whistling teals, black kites, white-eyed buzzards, crested serpent eagles, Egyptian vultures, black vultures, doves, red jungle fowls and kingfisher.
Best Time to Visit Bandhavgarh National Park
The best time to explore wildlife in Bandhavgarh is during summer months when the undergrowth disappears and the animals/birds move closer to the water bodies. During winter months wildlife sightings are rare.
Safaris in Bandhavgarh
You can move around inside the Bandhavgarh National Park in a jeep or on elephant back. You can hire Jeeps with walkie-talkies and licensed guides from outside the Park. The roads inside the Park are usually in decent condition and wildlife sightings are common. The best time to drive through and explore the wildlife from dawn until about 10 AM and in the evening from 4 PM till dusk. For safety measures, entry into the Park is not allowed after dusk. For safari into the National park elephants belonging to the Forest Department are used. The mahouts (elephant trainer-cum-driver) are usually well informed about the movements of tigers and also the areas that are good for wildlife viewing.
How to Reach Bandhavgarh
By Air
Khajuraho is the nearest airport, which is connected to delhi, Agra and varanasi. Bandhavgarh is about 6-7 Hrs drive from Khajuraho.
By Rail/Train
The nearest railheads from Bandhavgarh are
Jabalpur (170 km)
Katni (102 km)
Satna (112 km) and
Umaria (30 km)
By Road
You can get State as well as private buses that ply between Katni and Umaria, and from Satna and Rewa to Tala (Bandhavgarh).