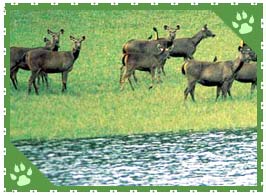 Bandipur National Park/Wildlife Sanctuary lies halfway down the Mysore-Ooty highway. Bandipur National Park is one of India's best-known wildlife reserves. Located in the Chamarajanagar district of Karnataka, it touches the states of Tamil Nadu and Kerala. Bandipur sanctuary is endowed with a moderate climate and diverse geographical features that support a remarkable variety of flora and fauna, making it a real paradise for wildlife. Bandipur is one of the most important tiger reserves in India, established under Project Tiger.
Flora and Fauna in Bandipur National Park
The jungles towards the eastern limits of the Bandipur National Park consist of stunted trees, combined with bushes and open grassy patches. Towards the northwestern fringes of Bandipur tiger reserve, there is a gradual shift in the vegetation from dry deciduous forests to tropical mixed deciduous forests. Diversity in plants has resulted into an enormous diversity of animal life.
The pre-monsoon showers in April make Bandipur truly amazing and the resident birds commence their breeding activities. Sprouting grasses in the meadows and view lines attract elephants and the majestic gaurs in large numbers. If you want to spot the larger mammals in their natural surroundings then Bandipur wildlife is a paradise from April to October. During summer months, when the weather is dry, the backwaters of the Kabini Reservoir in the northwestern portion of the Bandipur National Park play host to congregations of large mammals, especially the elephant and the gaur.
How to Reach Bandipur National Park
By Air
The nearest airport from the Bandipur National Park is at Bangalore which is 220 km.
By Rail/ Train
Mysore, at a distance of 80-kms, is the nearest railhead.
By Road
Bandipur Wildlife Sanctuary is 220 km from Bangalore; 80 km from Mysore and 80 km from Ooty.