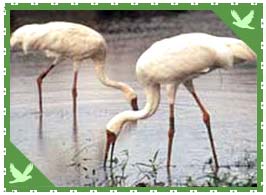 Bharatpur Bird Sanctuary/Keoladeo Ghana National Park is located in Rajasthan state of India. It is one of the finest bird sanctuaries/parks in the world. Besides a number of birds, the Bharatpur bird sanctuary/national park offers protection to various animal species as well. The bird sanctuary is home to numerous indigenous water birds as well as migratory birds and also inhabited by Sambar, Chital, Nilgai and Boar.
More than 300 species of birds have been reported in the Bharatpur bird sanctuary. The name Keoladeo derives from an ancient Hindu temple inside the Park, devoted to Lord Shiva whereas 'Ghana' means dense, which refers to the thick forest, which used to cover the area.
The Bharatpur Lake, around which the bird sanctuary is located, is man made created as a result of the dam that was constructed to save the Bharatpur town from floods. The depression created by extraction of soil for the dam was cleared and this became the Bharatpur Lake. At the beginning of the twentieth century, Bharatpur Lake was developed and divided into several portions and a system of small dams, dykes, sluice gates etc were created to control water level in different sections. Thus, the place became the hunting preserve of the Bharatpur royal family. The area was declared a National park in the year 1982 and a World Heritage Site in December 1985.
Wildlife Attractions at Bharatpur Bird Sanctuary
The main attractions for tourists visiting the National park/ sanctuary are the migratory birds, which come from Siberia and Central Asia to spend winters in Bharatpur, before returning to their breeding grounds. Some of the important migratory birds at Bharatpur bird sanctuary include numerous species of Cranes, Pelicans, Geese, Ducks, Eagles, Stints, Wagtails, Hawks, Shanks, Warblers, Flycatchers, Buntings, Wheatears, Pipits and Larks.
Best Time to Visit Bharatpur Bird Sanctuary
Bharatpur Wildlife Sanctuary/ National Park is open throughout the year but the ideal visiting months are from August-November for resident birds and October- February for migratory birds.
How to Reach Bharatpur Bird/Wildlife Sanctuary
By Air
The nearest airport is situated at Agra, which is 56-kms from Bharatpur. Delhi is 184 Kms from Bharatpur.
By Rail/ Train
Regular rail services connect Bharatpur with all the major cities such as Delhi, Mumbai, Jaipur and Agra. The Bharatpur railway station is about 6 Kms from the park/bird sanctuary.
By Road
An excellent network of roads connects Bharatpur to all the major cities of the Rajasthan and the neighboring states like Delhi, Uttar Pradesh, Haryana. Bharatpur is well connected by road from Agra (56-kms, 5 hours), Delhi (184-kms, 6 hours) and Jaipur (176-kms, 6 hours).
General Info / Tips for Bharatpur
It is advised that you carry a pair of binoculars for bird watching. A number of factors combine to make bird watching a pleasure. These are season, timing, and patience so it's better to visit the Bharatpur bird sanctuary during the visiting period.