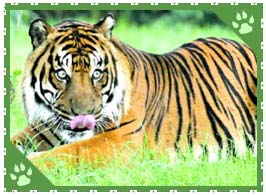 Jimm Corbett National Park is located in Ramnagar of Uttaranchal/Uttarakhand state of India. It is also India's first National Park. The Corbett National Park was first called as the Hailey national Park, named after the then Governor of the United Provinces, Sir Malcolm Hailey. The Park was later renamed as Jim Corbett, after the famed hunter-author-photographer-naturalist. Jim Corbett is famous for his exploits in the jungles of Nainital and Kumaon, where he shot numerous man-eaters. Corbett National Park was the venue from where Project Tiger was launched on April 1, 1973. The Park is situated in the Himalayan foothills, amidst forested mountains. Ramganga River flows through most of the Corbett National Park.
Flora in Corbett National Park
The Corbett National Park is immensely rich in vegetation, with different kinds of trees and shrubs. The lower reaches of the Corbett Park consists of tall and slender sal (Shorea robusta) trees. Shisham (Dalbergia sissoo) and khair (Acacia katechu) trees are found in the middle reaches, while the upper reaches are full of bakli (Anogeissus latifolia), chir (Pinus roxburghii), gurail (Bauhinia racemosa) and bamboo trees. There are 110 species of trees, 51 species of shrubs, and over 33 species of bamboo and grass in Corbett National Park
Fauna in Corbett National Park
For a wildlife enthusiast, the Corbett National Park is a perfect destination as it is home to more than 50 species of mammals, 585 species of birds and 25 species of reptiles, but the Corbett National Park is known more for its elephants and leopards. You will also find many types of deer such as chital (spotted deer), sambar (Indian stag), chinkara (Indian gazelle), pada (hog deer) and muntjac (barking deer) in the Park. If you are lucky you can spot tigers and leopards, though that is quite rare.
The most common sight at the Park is of Elephant herds comprising tuskers, females and calves. The spotted leopards usually confine themselves to the higher reaches of the Park. Other cat species found in the Park are leopard cats, jungle cats, the rare fishing cat and caracal. Other notable wild animals in the park are Sloth bears, monkeys, wild boars, jackals, dholes (wild dogs) and ghorals (mountain goats).
The aquatic life in the Park consists of mugger (Crocodylus palustris) and gharial (Gavialis gangeticus) crocodiles. Some of the snakes found in the Corbett National park are Indian rock pythons, Russell's vipers, cobras and common kraits. The avian life at the Park includes parakeets, babblers, flycatchers, robins, bulbuls, cuckoos, warblers, Great Pied hornbills and finches.
Safaris in the Corbett National Park
To have a complete feel and adventure in the Park you can try elephant and Jeep safari, which can be arranged in Dhikala and Bijrani. Jeep safaris are available from outside the Park as well as from Dhikala.
How To Reach Corbett National Park
By Air
The nearest airport is at Pantnagar, which is about 80 Kms from Ramnagar. Pantnagar airport is connected with Delhi.
By Rail/Train
Ramnagar is the nearest railhead, which is on the Delhi-Moradabad-Ramnagar broad gauge branch of North East Railway.
By Road
Ramnagar is well connected by road to Delhi as well as Lucknow. The route from Delhi spans Hapur-Murababad-Ramnagar. The road route from Lucknow spans Bareilly. Kichha, Rudrapur, Doraha and Kashipur.