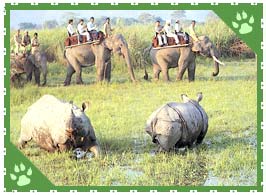 Spread over an area of about 430-sq-kms, the Kaziranga National Park is located on the banks of Brahmaputra River in Assam state of India. The swamps and tall elephant grass make Kaziranga the ideal habitat for the Indian One-Horned Rhino. The Kaziranga National Park was declared a wildlife sanctuary in the year 1940. It is one of the important natural habitats for conservation of biological biodiversity in their natural state. The Kaziranga National Park was included in the World Heritage Site List in 1985.
Wildlife Attractions in Kaziranga Wildlife Sanctuary
Besides being home to the great one horned Indian Rhino, Kaziranga National Park supports a number of other animals that include Indian Elephants, Indian Bison, Capped Langurs, Swamp Deer /Barasingha, Hog Deer, Hoolock Gibbons, Sloth Bears, Tigers, Leopard Cats, Pythons, Monitor Lizards, Jungle Cats, Otters, Hog Badgers, Wild Boar, Jackal, Wild Buffalo etc. In addition to the numerous animal lives that Kaziranga National Park supports, it is a birding paradise too. The bird life in Kanha wildlife sanctuary include the Black-Shouldered Kite, Oriental Honey Buzzard, Black Kite, Grey-Headed Fishing Eagle, White Tailed Eagle, Brahminy Kite, Pallas's Fishing Eagle, Himalayan Griffon etc. Besides the resident birds, a large number of migratory birds also descend on the lakes and marshy areas in the Park during winters, which include Bar-Headed Geese, Greylag Geese, Ruddy Shelduck, Red-Crested Pochard, Gadwall, Northern Shoveller and Falcated Duck.
Elephant Safari in Kaziranga National Park
Elephant safari is the best way to explore the wildlife in Kaziranga National park. The vast open country makes wildlife viewing fairly enjoyable in the Kaziranga National Park. To make the most of elephant safari you must set out in the early hours of the dawn. You will easily get authorized and trained Mahouts (elephant drivers) who will guide you through the park. You can spot wild Elephant herds roaming around and Indian Rhinos go past your cavalcade.
Best Time to Visit Kaziranga National Park
The best time to visit the Kaziranga National Park is from mid-November to early April. During the monsoon season, the Brahmaputra River along with the low-lying grasslands is completely flooded which results into migration of animals from one area to another.
How to Reach Kaziranga National Park
By Air
Jorhat, about 97 km away, is the nearest airport from Kaziranga National Park. The other nearest airport is located at Guwahati, about 217-km away,
By Rail / Train
The nearest railhead, Furkating is about 75 Km away from Kaziranga National Park.
By Road
Assam roadways and private buses stop near the Kaziranga Park on their way to and from Guwahati, Tezpur and Upper Assam.