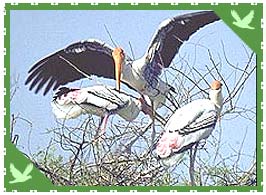 Keoladeo National Park is situated in Bharatpur district of Rajasthan. It is also known as Bharatpur bird sanctuary. Keoladeo National Park /wildlife Sanctuary is famous as bird's paradise, with over 380 resident and migrant species of birds, including the Common, Demoiselle and the rare Siberian Cranes. The Keoladeo Ghana National Park is also an excellent place to spot mammals like Golden Jackal, Jungle Cat, Striped Hyaena, Sambar, Fishing Cat, Nilgai, Blackbuck and wild Boar. In 1981, Keoladeo Ghana bird sanctuary was given the status of National Park. The name Keoladeo has been derived from a nearby ancient Hindu temple, devoted to Lord Shiva.
Attractions in Keoladeo Ghana National Park
The main attractions for tourists visiting the Keoladeo Ghana Park are the migratory birds, which come from as far away as Siberia and Central Asia to spend their winters in Bharatpur, before returning back to their breeding grounds. Some of the migratory birds that visit Keoladeo /Bharatpur bird sanctuary include several species of Cranes, Hawks, Pelicans, Geese, Shanks, Ducks, Eagles, Warblers, Stints, Wagtails, Buntings, Wheatears, Flycatchers, Larks, Pipits etc. Besides the migratory and resident birds, other tourist attractions in Keoladeo Ghana bird sanctuary include the Bharatpur government Museum, Lohagarh Fort and Deeg Palace.
Park Trips
To move around in the Keoladeo Ghana National Park, there are well-defined forest trails, which you can cover on foot or on a bicycle. You can also hire a rickshaw and explore the bird sanctuary at ease. The best time to visit the Park is either early morning or in the evening.
How to Reach Keoladeo Ghana National Park
By Air
The Delhi airport is about 5-6 hours from the Bharatpur bird sanctuary.
By Rail/ Train
Bharatpur is connected with regular train services with all the major cities of India such as Delhi, Jaipur, Agra and Mumbai. The Bharatpur railway station is 6 Kms from the bird sanctuary.
By Road
An excellent network of road services connects Bharatpur to all the major cities of Rajasthan and neighboring states like Delhi, Uttar Pradesh and Haryana. Bharatpur is well connected by road from Agra (55-kms), Delhi (176-kms) and Jaipur (176-kms).