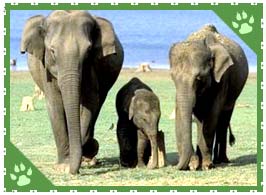 Nagarhole National Park is spread over an area of about 247 Sq Miles in Karnataka state of India. The national park/ wildlife sanctuary has abundance of wildlife that includes tiger, leopard, wild elephant, Indian wild dog, gaur (Indian bison), chital (spotted deer), muntjac (barking deer), mouse deer, four-horned antelope, wild boar, sloth bear, hyena, mongoose, civet, otter etc. The landscape in and around the Nagarhole National park is one of gentle slopes and shallow valleys. Vegetation in the Nagarhole national Park includes dry deciduous forests. The grassy swamps inside the Park support a luxuriant growth of green grass all through the year. Originally the Nagarhole forest was an exclusive hunting ground for the erstwhile Maharajas of Mysore. The Nagarhole national Park was later renamed as Rajiv Gandhi National Park after the late Prime Minister of India.
Nagarhole National Park has a large elephant and bison population. It also boasts of over 250 species of birds. The Kabini River flows on its northern confines whereas the Bandipur national park is situated at its fringes. A dam on the Kabini River and its picturesque reservoir demarcates the two national parks. During the dry season (February- June), this artificial lake attracts animals in large numbers, making it an ideal spot for sighting wildlife.
Flora in Nagarhole National Park
The predominant vegetation in the Nagarhole National Park is of tropical, moist, mixed deciduous type with a substantial portion of dry deciduous type. The upper tree canopy is dominated by Terminalia tomentosa is association with Tectonia grandis, Pterocarpus marsupium, Dalbergia latifolia, Adina cordifolia, Lagerstroemia lanceolata, Anogeissus latifolia, Schleichera trijuga, Boambax malabaricum and others. The lower canopy consists of Kydia calycina, Gmelina arborea Emblica officinalis etc. Several shrubs belonging to Solanum, Desmodium and Helicteres are found in abundance but shrubs like Eupatorium and Lantana are dominating.
Fauna in Nagarhole National Park
Nagarhole national Park is home to a variety of fauna. The important predators and carnivore in the Nagarhole National Park are tiger, leopard, wild dog, sloth bear and hyena. The herbivores include spotted deer, sambar, barking deer, four-horned antelope, gaur, wild boar and elephant. Nagarhole National Park provides an opportunity to see elephants in the luxuriant forests and bamboo thickets which they enjoy most.
The mammalian variety in the park includes the common langur, Bonnet macaque, jungle cat, slender Loris, leopard-cat), civet cat, mongoose, common otter, giant flying squirrel, giant squirrel, porcupine, jackal, mouse-deer, hare and pangolin.
There are more than 250 species of birds in the Nagarhole National Park. Bird population ranges from blue-bearded bee-eater, scarlet minivet and Malabar whistling thrush to the more common ospreys, herons and ducks.
How to Reach Nagarhole National Park
Nagarhole National park is well connected to adjoining areas of Karnataka. Motorable highways link the park to Madikere (90 km) and Mysore (96 km). The nearest well-connected railway junction is Mysore, whereas the nearest international airport is Bangalore (about 220 km). Bangalore is well linked to other cities of India by numerous airlines.
Best Time to Visit Nagarhole National Park
Though the Nagarhole wildlife sanctuary is open all through the year, the best visiting period being October-May, especially April-May.