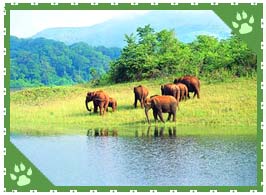 The Periyar National Park and tiger reserve is located in the Western Ghats of Kerala. The picturesque Periyar Lake is situated at the heart of the Periyar wildlife sanctuary. The Periyar Lake was formed as a result of the building of a dam and provides a permanent source of water for the local wildlife. Besides the magnificent tiger you can also spot the Indian elephants in the act of ablution and playfulness by the Periyar Lake.
Wildlife Attractions in Periyar National Park Elephants form the main attraction of the National park as mentioned above. Apart from Elephants, other animals in the Periyar tiger reserve include Gaur, Wild Pigs, Sambar, Barking Deer, Mouse Deer, Dole or Indian Wild Dog and very rarely, a Tiger. Four species of primates are found at Periyar - they are the rare lion-tailed macaque, the Nilgiri Langur, the common Langur and the Bonnet Macaque. Periyar wildlife sanctuary also happens to be the habitat of the elusive Nilgiri Tahr, which is rarely seen.
The birdlife inside the Periyar sanctuary comprises of Darters, Kingfishers, Cormorants, the great Malabar Hornbill and racket-tailed Drongoes. The reptilian population in the park includes Monitor Lizards, which can be spotted basking in the sun
Other Attractions in Periyar
Kumily
Situated just 4-kms from Periyar, Kumily is a small growing town known for the spice trade, the major occupation of this small town. Kumily is also well equipped with excellent hotels and resorts for accommodation.
Cardamom Hills
Cardamom hills are another picturesque location in the vicinity of the Periyar wildlife sanctuary. One can reach the Cardamom hills from Kumily. Cardamom Hills are known for the crisp, cool air redolent with the scents of spices, and soaring mountains that give way to tea plantations and dense jungle.
Boat Cruises
You can explore a decent part of the Periyar wildlife sanctuary by taking a boat cruise in the Periyar Lake. Today the Periyar Lake presents an excellent boating spot for tourists. Though you can not spot too many animals from the boat but you still get to spot family of Elephants, Wild Boar and Sambar Deer by the water's edge. The upper deck of the boat is best for wildlife viewing when taking a boat cruise.
Best Time to Visit Periyar
The best season to visit Periyar wildlife sanctuary is from the months of October and June.
How to Reach Periyar Wildlife Sanctuary
By Air
Kochi (Cochin) at a distance of about 200 Kms and Madurai in Tamil Nadu at a distance of 140-kms are the nearest airports from Periyar.
By Rail /Train
Kottayam at a distance of about 114 Kms is the nearest railhead from Periyar.
By Road
Kumily, the nearest town from Periyar wildlife sanctuary/ tiger reserve is well served by both state and private buses from Kottayam, Ernakulam and Madurai in Tamil Nadu.