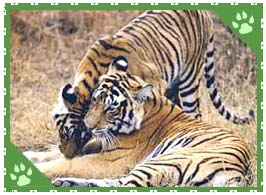 Sariska Wildlife Sanctuary is located in Alwar district of Rajasthan. Sariska wildlife sanctuary/ National Park was once the hunting preserve of the Maharaja of Alwar and was declared a sanctuary in 1955 and later became a Project tiger reserve. Sariska Tiger Reserve is nestled in the Aravali Hills and spread over an area of about 800 Sq km covering the grasslands, dry deciduous forests, cliffs and rocky landscape. Apart from the famous wildlife sanctuary, Sariska also boasts of the ruins of medieval temples of Garh-Rajor dating back to the 10th and 11th centuries, a 17th century castle at Kankwari that provides a panoramic view of flying vultures and eagles.
Flora in Sariska
The forest type in the Sariska tiger reserve is Dry deciduous, represented predominantly by dhok (Anogeissus pendula), tendu (Diospyros melanoxylon) khair (Acacia catechu) and ber (Zizyphus maudrentiana). The vegetation at Sariska remains lush green during the monsoon and dry in summer.
Fauna in Sariska
Apart from the tiger Sariska is home to a variety of wild animals like the sambhar, leopard, chital, jackal, four-horned antelope, nilgai, wild boar, langur, hyena rhesus macaque and jungle cats. The Sariska National Park houses India's largest population of peafowl and is also home to quail, golden-backed sand grouse, woodpeckers and crested serpent eagles. The Siliserh Lake on the edge of the Sariska National Park has a large crocodile population. The carnivores such as Leopard, Jungle Cat, Jackal, Wild Dog, Hyena and Tiger in Sariska feed on species like Sambar, Nilgai, Chital, Wild Boar, Chausingha and Langur. The best time to spot tigers in Sariska tiger reserve is in summer, when they move near the waterholes in absence of much foliage to camouflage themselves.
In Sariska you can find a rich and colorful birdlife too. The avian life includes the grey partridge, sand grouse (a pigeon-like bird), quail, golden-backed woodpecker, Great Indian horned owl and white-breasted kingfisher. In the evening the birds inside the Park make a terrible bedlam.
The most favorable time to visit the Sariska National park is between November and March, but if you are ready to take on the heat in April-May you can spot the wild animals more easily as they wander in search of water.
How to Reach Sariska
By Air
The nearest airport from Sariska is Jaipur, situated at a distance 107 Km and well connected to major cities such as Delhi, Mumbai and Jodhpur.
By Rail/Train
Alwar, at a distance of 37 km, is The nearest railway station from Sariska. From Alwar, you can hire a taxi to reach Sariska. There are regular bus services from Alwar to Sariska.
By Road
Sariska National Park is situated on the Delhi-Alwar-Jaipur Highway. Regular bus services link Alwar to major destinations in and around Rajasthan and Delhi. You can also hire taxis for Sariska.