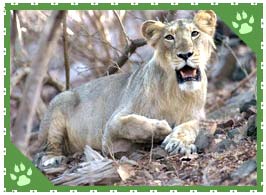 Gir National park is the only home to the Asiatic Lions in India. The Gir National Park /wildlife sanctuary lies in the Gujarat peninsula in South-Western part of India. The terrain in and around the national park is rugged with low hills and the vegetation is mixed deciduous with Teak, Jamun, Acacia, Tendu and Dhak trees, sprinkled with patches of grasslands. The trees on the hills are sparse and stunted. Inside the sanctuary, there are several human settlements of cattle herders with abundance of livestock population that forms a significant part of the Lion's diet. There are places of Hindu worship and pilgrimage also and sulphur springs at Tulsi Shyam and Kankai Mata. The edges of the Gir forest are inhabited by good population of Indian Gazelle, zealously protected by the local people.
Wildlife in Gir National Park
Gir national Park is mainly known for the critically endangered Asiatic Lions. The Asiatic lions of Gir are smaller and more compact than the African Lions. The Asiatic Lions of Gir are best viewed at dawn or dusk when they are on the move. Apart from the famous Asiatic lion, the Gir wildlife sanctuary is home to a number of other animals such as Nilgai, Sambhar, Chinkara, Black Bucks, Wild Boar, four horned Antelope, crocodile, Grey Musk Shrew, Indian Flying Foe, Indian Hare, Small Indian Mongoose, Pale Hedgehog, Small Indian Civet, Indian Pangolin, Ratel, Indian Porcupine, Indian Fox and Jackal. The Jungle Cat, Desert Cat and the Rusty Spotted Cat also inhabit the Gir forest. The Gir forest is also rich in avian fauna and about 300 species are found inhabiting Gir National Park of which the most common is the peafowl.
There are 6 routes in the Gir National Park, the longest being 31km. Some of the most popular routes for a safari are the Sasan-Kamaleshwar Dam, the Sasan-Chodavdi, the Sasan-Kankai and the Sasan-Tulsishyam routes. You may be able to spot lions in Gir forests with the help of tracker and guides. For safari etc you may get jeeps and guides from the forestry department of the Gir forest. The best way to explore wildlife in Gir forest is by driving through the most common trails during early mornings and late evenings.
How to Reach Gir National Park
Sasan is about 100 kms from Diu, 160 kms from Porbander and 160 kms from Rajkot. All the three places are connected by air. From Mumbai (the nearest metropolis) you can reach Diu by air and then Diu to Sasan by road (about 2 hours). Other options to reach Gir are from Porbandar to Sasan by road (about 2.5 hours) and Mumbai to Porbander by air. There are regular train and bus services too with Junagarh and Veraval the start points.